This Belongs In A Museum
And now I know what it feels like to actually agree with Taylor Swift. It feels strange and someone might need to hold me.
Taylor Swift was walking backstage at the Billboard Music Awards last night when she caught her best friend 4eva awkwardly cheek kissing Justin Bieber and her reaction spoke for all of us. Since Taylor was dressed up like a damn figure skater, I give her ICK NAST face all 10s! Sticking your tongue out after watching your friend kiss on her douche ex-boyfriend is totally some junior high school shit, but for once I'm not annoyed by the fact that Taylor is an 8th grade mean girl trapped in the body of a squinting ostrich.
It's even better in GIF form and this GIF should go under "Taylor Swift's Greatest Achievement" on her Wikipedia page: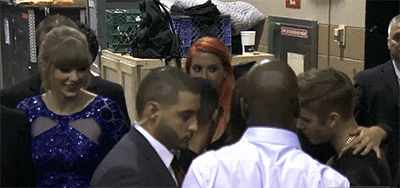 A slow clap and a standing ovation for Tay Tay!
And I made the same exact face when Taylor jumped on stage last night wearing one of Dawn Wiener's outfits.
I don't know if this is some HIGH ART shit that belongs in the Whitney Biennial or just shit.
You better lay your best church outfit on the bed before hitting play, because this mess will make you want to run to Sunday mass to cleanse your eyes and ears in the largest vat of holy water. Tan Mom shat out a video for her song, "It's Tan Mom," and it'll scar all of your senses. After watching the entire thing, my eyeballs broke out into a heat rash, I suffered from temporary heat stroke and all I wanted to do was lie naked in a bath tub full of ice cubes and bleach (which is what I'm sure all of the shameless gays in this mess did after the shoot). I just want to smear aloe vera all over my eyeballs, because it burns. This mess of a video is pretty much what the inside of my head looks like after I've been tanning while getting drunk on peach wine coolers all day.
Let me try to say a few nice things about this wreck.... Putting her face in the sun like the Teletubbies baby was a stroke of artistic genius. Kanye wishes he came up with that. And well, at least Tan Mom lip-synchs better than Brit Brit.
via TMZ
If you've been following the Amy's Baking Company freakout on Facebook, then I'm sure you've gone through several bags of popcorn and have thrown up seven tons of laughs from watching those crazy bitches lose whatever is left of their minds all over their keyboards.
If you have no idea what I'm talking, then immediately watch part 1 and part 2 of last Friday's episode of Kitchen Nightmares. For the first time in Kitchen Nightmares history, Gordon Ramsay, who prides himself on being a hot-tempered cunt, walks out of Amy's Baking Company Bakery Boutique & Bistro in Scottsdale, AZ, because he couldn't break through the shield of craziness permanently surrounding owners Amy and Samy Bouzaglo.
In just one episode, the Bouzaglos stole their waitstaff's tips, fired a server, Samy threatened to whoop a customer's trick ass and Amy threatened to call the police after a customer asks if he can have the pizza he bought from them. That's basically what would happen if Chris Brown, Kanye West, Lindsay Lohan and Sean Penn opened up a Sbarro/Dunkin Donuts together. Gordon gives up and walks out on them and that was that.....until last night.
After the episode aired, they got hundreds of one-star reviews on Yelp and last night, they started responding to all the hate on Facebook. It's theater at its finest! When Reddit started following their meltdown and people started commenting on how they sell repackaged cakes, they turned up the crazy and got even crazier.
Scottsdale's most reputable gourmet chefs have since taken down most of their ALL-CAPS rants and claim that they've been hacked (the FBI is looking into it, uh huh), but Eater screen-capped some of their greatest moments. My favorite is the one above and Samy and Amy should get some kind of customer service award for it. I kind of want to call up Amy's Baking Company and ask if they take lunch reservations for tomorrow, because my life isn't complete until I hear Amy call me a SLUTTY BITCH. That is the ringtone my iPhone severely needs.
And where's the petition to get these two on The Next Food Network Star, Cupcake Wars and basically every other show on television?
Those of us who regularly fill ourselves up with the good shit smoke should be disappointed in ourselves for not coming up with this first. From the brilliant mind Ryan McHenry comes these Vines of Ryan Gosling refusing to eat cereal. I just.... I don't even know what to say.... I'm so glad people have time for shit like this. There's a lot more after the cut. These are best viewed after you've smoked a bowl or twenty. Actually, don't do that, because then you might get the urge to try to eat that spoonful of Corn Pops. GO!

36 comments
•
Read more
•
To sort of quote Reese Witherspoon in this dashboard cam video from the night she was arrested for being a drunken, annoying twat, "This is beyond BEYOND....HILARIOUS!"
The footage from the dashboard cab of Reese and her husband Jim Toth getting arrested magically landed in TMZ's lap and they posted three videos of her shouting out priceless lines like, "I am an American citzen!" and "You're about to find out who I am!" THIS TRASHY BITCH pulling rank! Who the hell does she think she is? Randy from South Park?
The cherry on top of this drunken, red wine-infused sundae is Jim, standing there all quiet-like, wishing he had the power to disappear. Then Jim delivers the real punchline: "I had nothing to do with that."
HAHAHAHAHAHAHA!
These two drunk messes should take their act on the road. Only neither of them should drive. Jim seems like the type who speaks a maximum of 20 words a day and he uses seven words daily to say "I had nothing to do with that" to everybody that Reese is bitchy to.
And here's Reese telling the cop that she needs to use the bathroom, because she's knocked up. I guess we now know that when Laura Jeanne Poon gets drunk, her twang comes out.
And finally, here's Jim trying to blow blow blow blow blow blow for the cop.
If Reese and Jim would've put their heads together and blown blown blown blown blown the cop, they wouldn't be in this mess in the first place.
Jim pleaded guilty to DUI today and Reese pleaded no contest. Jim won't go to jail, but he will have to perform 40 hours of community service. Reese has to pay a $213 fine and that's it. I was going to say that now that night is behind them, but that's not completely true, because these beautiful videos will live on forever and beyond.
Mike Jerrick and Sheinelle Jones of Fox29's Good Day Philadelphia became American treasures over a year ago when they clowned the Kartrashians right after interviewing those trash heap heffas and they're at it again.
Ryan Lochte was on Good Day Philadelphia to pimp out his new reality shit show on E! and not only did he answer the question "What Would Ryan Lochte Do?" (answer: pretty much anything but a math problem), but he also answered the question, "What happens when chlorine fries a human a brain?" Mike and Sheinelle asked the swimming world's answer to Chrissy Snow some basic questions and you can practically feel the power draining from the Dollar Tree AA batteries in his head.
Ryan told Mike and Sheinelle that he's not like other Olympians, because he likes to go out and have fun, and he also said that "if you're a man at night, you gotta be a man in the morning." All sarcasm aside, that is a really good line. "Man At Night, Man In The Morning" is totally going to be the title of the next Bond movie. Alcide from True Blood should ask Ryan if it's okay if you're a man at night and a man in the morning, but a wolf in between? Ryan needs to clear that up.
Ryan wasn't even the best part of this interview. The best part came when they said goodbye to Ryan and Sheinelle nearly laughed her lash off and snorted. Mike and Sheinelle are so wrong and so right.
Here's the full interview in all its awkward glory:
I shouldn't even make fun of pretty, simple Ryan, because this was me during every job interview I ever had.
And here's the human DURRRR talking to the human dingle Mario Lopez on Extra yesterday.
HBO finally released a full trailer for Liberace biopic "Behind the Candelabra" and I think it made me butt birth out a rhinestone-covered baby unicorn. In under two minutes, they gave us sequined vests, gallons of lip gloss, exquisitely applied eyeliner, bubbles, Matt Damon in a white Speedo, feathers, fur, a crystal-encrusted Rolls Royce chariot, gay drama and more wigs than a Knowles family reunion. If there was a close-up shot of a massage therapist's dick, it would look exactly like John Travolta's daily thought process.
And more importantly, the trailer gave us this:
When Rob Lowe puts on a middle-parted long wig he looks like a coked up Princess Stephanie in the middle of an orgasm and who knew looking at that would give me the puckers.
I just want to hump that headline and cuddle with it afterward and I never want to cuddle after. I usually just want to drink tap water out of the bathroom faucet and then go and watch Dateline re-runs in the other room, but not with this headline.
HuffPo says that in her new book The Power of Positive Drinking, comedian Cleo Rocos writes about the time in the magical 80s when she, Freddie Mercury and TV star Kenny Everett dragged Princess Diana up as a hot dude to sneak her into a gay club in London. They put her in an army jacket, sunglasses and a black cap, and snuck her into the Vauxhall Tavern in South London. Cleo writes:
"When we walked in ... we felt she was obviously Princess Diana and would be discovered at any minute. But people just seemed to blank her. She sort of disappeared. But she loved it. She did look like a beautiful young man. She was always a very fit girl, so they might have thought, 'There's a nice young man with pert buttocks.'"
That should be Disney's next cartoon movie. I really need to see a cartoon movie about a princess who escapes her life by dressing up like a twink bottom to go to gay clubs. Greenlight that shit now, Disney. But seriously, I will never forgive my parents. They should've had me decades earlier and moved to London, so that I could've gone to Vauxhall Tavern and hit on a dragged up Princess Diana. Because the next best thing to hitting on Prince Hot Ginge at a gay club is hitting on a twinkified Princess Diana at a gay club.
Saturday, March 23rd 2013
When I take a long nap in public, the police wake me up and tell me to put on my pants and go sober up at home. When the humanized form of a unicorn horn Tilda Swinton does it, people wait in line to see it and they call it ART!!!
Starting today and continuing for the rest of the month, Tilda Swinton will take naps in a glass box at MoMA in NYC all day, on random days. Gothamist says that even the employees at MoMA don't know when she's going to show up. Tilda just glides into the museum in the morning, gets into the glass box and sleeps off her hangover. The only things in the box besides Tilda are a water jug and cushions. The piece is called "The Maybe" and Tilda first performed it in London in 1995. The museum said this about Tilda's art piece:
An integral part of The Maybe's incarnation at MoMA in 2013 is that there is no published schedule for its appearance, no artist's statement released, no no museum statement beyond this brief context, no public profile or image issued. Those who find it chance upon it for themselves, live and in real—shared—time: now we see it, now we don't.
Call this shit stupid and scream about how you do this every night, but this is the legendary Tilda doing it. It's like going to a unicorn zoo. I'd rather watch Tilda sleep or take bird sips of tap water from a plastic tumbler for six hours straight than watch Lady CaCa or Beyonce or whoever do anything. This shit is a bargain too. I think it's like $25 if you're not a member. Bitches have spent a lot more money to watch Brit Brit nap on stage during her concert.
Besides, this is hard work. Tilda has to hold in her pee (although, I don't even know if she does pee), she can't fap and if she lets out a fart, there's nowhere for her to escape from it. She should've called this piece "Dutch Glass Oven."
And if you landed on this post after Googling "Tilda's box," I'm sorry.
Saturday, March 23rd 2013
If you read that as "America's Sweetfarts," that works too!
Anderson Cooper's talk show ends in just a few months, but he should take a bow early, because he will never get a more important or famous guest than the guest he had on Friday's show: Grumpy Cat (born name: Tardar Sauce)! Grumpy Cat, who is looking more and more like my abuelita at every children's birthday party she went to, finally made a thousand dreams come true by meeting The Silver Fox. Anderson tried to put on his best grumpy pussy face while posing with Tardar Sauce and well, he shouldn't quit his job to become a Grumpy Cat impersonator anytime soon. He tried, but he looks more like Constipated Fox than Grumpy Cat. He kind of looks like the soft part of his sugar walls got poked hard by a peen and he's not sure if he's into it.
With all that being said, I'm still going to print out this picture, throw a veil on it and marry it in a quickie wedding at the courthouse. I don't know for sure if human-paper marriage is legal in California or not, but Kris Humphries did marry a water damaged piece of cardboard here, so I'm guessing it is.
And here's Grumpy Cat not giving three fucks while hanging out with The Silver Fox.
via Instagram (Thanks to everyone who sent this in)