Willow Smith
Jada Pinkett Smith took a little break from screaming at Willow to throw that math homework in the trash and sing, child, sing to sit down and write an open letter to the media and everyone else on Facebook (via HuffPo) about the "bullying" (buzz word, buzz word) of young celebrities. Jada Pinkett Smith did her best Chrissy Crocker impersonation and screamed at everyone to leave Justin Bieber, RiRi and Taylor Swift aloooooooooooooooone.
One of Scientology's down low disciples wants us all to remember when were Taylor Swift's age and we were innocently working with our PR team to perfectly craft a sellable image using the songs we wrote about our ex-boyfriends. Remember that?! Jada wants us to remember when we were Justin Bieber's age and were throwing tantrums in our weed smoke-filled dressing rooms while our parents sat in the mansion we bought, because they don't want to get jobs. Remember that?! Remember that while reading what Jada wrote:
This last week, I had to really evaluate the communication in regard to our young artists in the media. I was trying to differentiate cyber-bullying from how we attack and ridicule our young stars through media and social networks. It is as if we have forgotten what it means to be young or even how to behave like good ol' grown folk. Do we feel as though we can say and do what we please without demonstrating any responsibility simply because they are famous?

Is it okay to continually attack and criticize a famous 19 year old who is simply trying to build a life, exercise his talents while figuring out what manhood and fame is all about as he carries the weight of supporting his family as well as providing the paychecks to others who depend on him to work so they can feed their families as well? Does that render being called a cunt by an adult male photographer as you try to return to your hotel after leaving the the hospital? Or what about our nine year old beautiful Oscar nominee who was referred to as a cunt as well? Or what about being a young woman in her early twenties, exploring the intracacies of love and power on the world stage? And should we shame a young woman for displaying a sense of innocence as she navigates through the murky waters of love, heartbreak, and fame? Are these young people not allowed to be young, make mistakes, grow, and eventually transform a million times before our eyes? Are we asking them to defy the laws of nature because of who they are? Why can't we congratulate them for the capacity to work through their challenges on a world stage and still deliver products that keep them on top.

We all know how hard it is to keep our head above water, even in the privacy of our own homes let alone on the world stage. Imagine yourself, at their age, with the spotlights, challenges and responsibilities. Most of us would have fallen to the waste side before we could even get to a crashed Ferrari, a controversial romance, several heart breaks, or an Oscar nomination at NINE. We WISH we could have had the capacity to accomplish HALF of what they have accomplished along with ALL these challenges they face. But...maybe THAT'S the problem...we WISH we could have or even...we WISH we could.
Don't tell me what to do, Jada! You're not my mom! Stop eating my food! Get out of my house! I hate you!
But seriously, Jada also slapped down a friend in an open letter on Facebook, because the friend wasn't making her blended family work and she needs to WOMAN UP and stop coming between her man and her man's children with another woman. So my question is, when did Jada become the Dear Abby of Facebook even though nobody was asking for her advice? I liked Jada so much better when she was in that shitty metal band.
Here's Jada leaving her hotel with Willow a few weeks ago.
Thursday, February 7th 2013
12-year-old Willow Smith was supposed to star in a hip hop remake of Annie and they've been talking about it for months, but then last week it was announced that she whipped her hair right out of that shit. Will Smith's production company said that the remake is still a go and Jay-Z is still doing the music for it, but Willow is out. Some figured that Willow was dropped from the movie for being too old. Will was at Temple University in Philadelphia this past weekend to speak at "Real Talk With Sister Souljah and Will Smith," and he explained the real reason why Willow isn't going to be Annie. Basically, Willow told Will to take the next exit off the ho stroll and stop acting like Pimp Mama Kris, Abby Lee and White Oprah:
"Willow was supposed to be doing 'Annie,' we got Jay-Z to do the movie, got the studio to come in and Willow had such a difficult time on tour with 'Whip my Hair' and she said, 'You know Daddy, I don't think so' and I said, 'Baby, hold up! I said no,no,no, listen, you'll be in New York with all of your friends and Beyoncé will be there. You will be singing and dancing,' and she looked at me and said, 'Daddy, I have a better idea, how about I just be 12.'"
Now maybe Willow will be better at maths. But really, what 12-year-old outside of sitcoms and after-school specials say shit like, "How about I just be 12." My guess is that Willow told Will that she didn't want to be in that dumb shit and nobody wants a remake of Annie anyway. Willow Smith speaks for all of us, because we don't want a remake of Annie, but we do want a sequel to Woo.
via Hip Hop Wired
The miniature Will Smith, Willow Smith, posted this picture to her Instagram (via Daily Mail) and it's got some people siccing CPS on her full-time, Scientology-appointed babysitter or whoever the hell is raising her since it's obviously not Jada and Will. In the state of California, kids under the age of 18 can't get pierced without a parent's permission, which is why most of us tried to pierce our "straight ear" (or the "other gay ear" as I call mine) using our abuelita's sewing needle, a Ziploc bag full of ice and the determination to look like Jordan Knight. The key word being "tried," because I couldn't do it and quickly realized that the easiest way to achieve that look is by taping one of my mom's earrings on my lobe. New Kids glamour without the pain.
Jada Pinkett Smith is forever trying to be "cool mom," so I wouldn't be surprised if she signed off on Willow stabbing her tongue for the sake of ~EDGY FASHUN~, but that looks fake to me. That stud is almost half the size of Willow's head. If that shit is real, then I fully expect to see the Daily Mail headline "Willow Smith Rips Her Tongue Back And Forth," because things won't end well when you put braces and a tongue ring in the same mouth.
You know, now that I think about this shit, that piercing probably is real, but it has nothing to do with fashion. It's just a Scientology tracking ball that doubles as a device that filters out any reasonable and honest statements before they leap off of Willow's tongue. That's all!
Seen here looking happy at home with several loads of sticky, wet, thick goo all over his alpaca face, Taylor Lautner was just one of the many hos who happily got hit with a Slimer bukkake at last night's Nickelodeon Kids Choice Awards. They say this is the Kids Choice Awards, but this is really the Tommy Girl's Choice Awards, because these pictures have made TG put the DO NOT DISTURB sign over his dungeon door while asking Xenu to forgive him for his fapping sins. Taylor Lautner + Alien Jizz = a party in Tommy's panties!
Taylor looks a little TOO happy while covered in bright green stickiness. If a load of green goo hit me in the face, I'd wonder what kind of Gerard Butler-like disease the peen it came from suffers from? I know what pineapple does, but what does that?! I bet that's what it looks like when you put a Parasite Hilton cream pie under a black light.
But Taylor wasn't the only one who got slimed last night. So did Halle Berry (insert Gabriel Aubry slow clap here), and below is Justin Bieber getting slimed while Will Smith bear hugged him from behind (via CDAN):
I don't know what happened there, but it has to be illegal in at least 1 province.
Here's a few more pictures from last night's mess of a show. In order!: Andrew Garfield, Kelly Taylor, Selena Gomez, Heidi Klum, Jesse McCartney, Kelly Osbourne, Katy Perry, some Garbage Pail Kid refugees, Kristen Stewart, Emma Stoner, Ashley Jizzdale, Halle Berry, The Lesbeaver with Will Smith and Michelle Obama.
Friday, February 3rd 2012
Just like when Brit Brit mowed her swamp weave and when Felicity took a machete to her curly hair mane, the children are losing their shit (put a diaper on 'em) over 11-year-old Willow Smith snipping her hair whip off and I'm sure you've already seen this highly important world news on CNN Jr.
The newest Smith Family ATM Machine posted a Tweeted of pictures of her buzzed cue ball and my first thought was: Stop making fucking fart faces or it will stay like that forever and then Will & Jada will have a really hard time making more money off of you. My second thought was: Oh, so that's what a real life Oscar from Shark Tale looks like. No, really, shaving her head totally brings out the Will Smith in her face.
Willow "Coloring Outside of the Lines" Smith, Jaden Smith and their gang of Latch Key Kids left the Louis Vuitton store in L.A. the other night and I have two very good reasons for being mad at her. The first being that the gay poodle's ass on her head has given me a craving for cinnamon candy popcorn and that's not okay since my shit is on a diet after swallowing all the good things Italy has to offer for a week. The second being that I wish that when I was 3 (or however old she is) I could walk around looking like the acid-tipped Bride of Minajestein without the fear of an abuelita slapping the WTF off of my head with a chancleta.
Monday, December 5th 2011
When you walk through the aisles of a Petco, you see a leopard print fluffy dog bed, but Willow Smith sees a neck shrug (or whatever that is around her neck). When you stroll through Monstropolis, you see some blue monster's tail, but Willow Smith sees a scarf vest. When you see the pair of Land's End foot warmers your auntie gave you for Christmas, you throw that shit in the trash, but Willow Smith dives in after them because she's going to turn them into FASHION! That is why two paparazzos are taking her picture and not yours. (Correction: They're actually taking her picture because she fell out of a famous vagina a few years ago.)
Here's more of Willow looking like a citizen of a post-apolycptic Sesame Street while leaving some building in NYC today without parental supervision. Call CPS!
Wednesday, August 3rd 2011
In the new issue of Architectural Digest, The Smith Family gave the magazine a tour of their 25,000 square foot mega mansion in Malibu that they built from the ground up. To put things into perspective, my apartment is probably the size of one of the bathroom tiles in the powder room that they'll never ever piss in because they've got 10 of them!
Will Smith and Jada Pinkett Smith tell AD (via Daily Mail) that mostly everything in the house was made by human hands and comes from all over the world. Will and Jada are into that OM shit, so she says they kept that in mind when designing the 9" burrito dick of houses.

"For Will and me this home was always a spiritual endeavor.

We're very earthy, organic people. We wanted to create a family retreat, something made by hand and as natural as possible, something that ties back to the land. Whatever it becomes, the craftsmanship will always represent our union and the love of our family."
Will then said that they designed the house with "no dead ends… to create an infinite cycle that represented what Jada and I hoped for our love." Kind of like the infinite cycle of vomit that's about to pour out of my mouth hole after reading that mess of a quote? Okay, I get it.
Will and Jada obviously love living in a gigantic mansion that looks like one of the nicer Radissons, so I won't get on them at how my ass cheeks are sweating from the chair overload in their front hallway alone. Seriously, that shit almost looks like an indoor park. If I walked by and saw two strange old men with Styrofoam cups of coffee playing chess, I wouldn't even blink. I also wouldn't even blink if a colony of possums from the north wing passed by me while going to the south wing for winter. Even Jada and Will wouldn't notice.
This is the real secret to their long-lasting marriage. Jada and Will are always going on about how they keep their marriage hot by fucking each other's holes all over the place. Bitches, please.
The truth is their marriage has lasted so long, because they never see each other! It's too much work. When Will wants to visit Jada in her private suite at the opposite end of their compound, he needs a GPS system, three sets of fully charged batteries, a golf cart, a space blanket and a guide with a donkey to get there. It's easier just to send that bitch a postcard via Pony Express.
Monday, February 14th 2011
Looking like she just rolled out of a past due Buitoni carton, Lady Gaga performed her new single Born This Way for the first time on the Grammys last night. The foolery is here in case you missed it. It looked like Parasite Hilton's lady condom finally breaking free and celebrating its freedom. It also looked like what you see when you drop acid and stare at a bowl of wet pasta noodles for an hour straight. A mess in need of some Prego.
But that wasn't the only "THE FUCK?" moment that billowed out of Gaga's tuck. When she won Best Pop Vocal Album, she gave a special thanks to a special someone who served as an inspiration for Born This Way. Nope, not Madge. Gaga gently squeezed one of Whitney Houston's stubborn doody bubbles when she said:

"I need to thank Whitney Houston. I wanted to thank Whitney, because when I wrote 'Born this Way,' I imagined she was singing it -- because I wasn't secure enough in myself to imagine i was a superstar. So, Whitney, i imagined you were singing 'Born This Way' when I wrote it."
Klingon Madonna say what?! With all the talk that Born This Way is just a Dolly-fied version of Express Yourself, I really thought she would address this shit by singing a verse of EY or something. But no, Caca gives a subliminal kick to Madge's memaw crotch by thanking Whitney. Whitney is not convinced, though. She responded with this: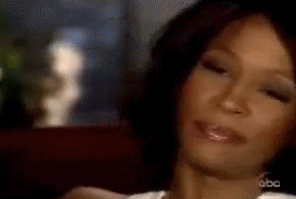 Here's more of the movie make-up school drop-out recycling Madge's old Blonde Ambition ponytail at the Grammys last night where she posed with Willow Smith.
Thursday, February 10th 2011
So the Annie remake is happening. Will Smith is producing it. Willow Smith is going to star in that mess. Your childhood might have fleas in its eyes from weeping into the back of the neck of a mangy alley dog. Get ready to weep some more, because Willow says that she really wants Brad Pitt to adopt her ass onscreen and play Daddy Warbucks. Willow really needs to stop whipping her hair, because her train of thought derailed and crashed right into Fuckeryville. From Access Hollywood:

Access Hollywood asked 10-year-old Willow – star of the upcoming remake – who she wants to play Oliver "Daddy" Warbucks and she's hoping "the sun will come out tomorrow" on one of Hollywood's biggest stars.

"Brad Pitt!" she told Access at Justin Bieber's "Never Say Never" premiere on Monday night in Los Angeles.

As for details on the project, which dad Will Smith is producing with Jay-Z and Sony Pictures, the young star stayed tight-lipped.

"We're just going to have to wait for that! You're just going to have to wait," she said.
As I've said before, the original Annie sucks, but still. Brad Pitt?! I really hope Willow is thinking Brad Pitt as Benjamin Button as Daddy Warbucks. Now, that shit I'd see. Better yet, they should just do the nepotism version and cast Shiloh as Daddy Warbucks, Suri Cruise as Miss Hannigan, and Kingston Rossdale as Rooster! It's where Hollywood is going anyway. "The sun will come out tomorrooooooow...and if it doesn't my daddy will fucking buy me a new one!"